It is the 1 year anniversary of the night Tara and me and fellows Vincent and Antoine were randomly attacked on the street in Paris. At the time I was singing "Outside Of Town" and couldn't remember the words or the chords, In short, I was butchering the performance pretty badly. But still the man had no right to clock me like that! Ha. He broke my fucking cheekbone. It's alright, at least I'm not——-HIM. A couple of people have asked me if I was afraid I'd run into him next time I was in Paris. He was a complete stranger. Thanks for the love but….get a grip.
Scarnella (Nels and Me) will be playing on Saturday night. Outside Of Town is the first song I ever wrote. Nels and I did the song, duo, as an extended improv at the end of many Geraldine Fibbers shows. It's the song of a girl killing a fucking creep who did her wrong. Maybe, in honor of my beautiful cheek, we will do it again Saturday. The whole night will be filled with amazing music. Then Monday I play solo at a house party. Check below for all show details.
++++++++++++++++++++++++++++++++++++++++++++++++++++
Please take note!!!!!
Here's a video for Evangelista's "Winds Of Saint Anne" made by an incredible Italian artist. I only know her name is Sara and that she's posted lots of film things on my myspace page that led me to ask her if she would do one for us. It is fucking great. Sara. Tell me your last name. You are great.
and her myspace page is wicked: http://www.myspace.com/manuit
also, look at this link:
http://www.youtube.com/watch?v=YLktomQ5FEY
It's an appropriately disturbing video montage of the works of 16th century doom metal painter, Pieter Bruegal set to the swashbuckling, apocolyptic buddy-song, Truth Is Dark Like Outer Space, by Evangelista. All I know is that the person who did this goes by the handle, Aluminium Face. In the USA we spell it: aluminum. This girl or guy ain't from around here. Show yourself.
+++++++++++++++++++++++++++++++++++++
So, again about the guy in Paris, I broke my cheekbone on his fist, which he swung at me while running at me full speed with his 6 foot+ frame. Apparently this gave me a concussion. We didn't know it was that bad because….. well because my head got hit and I wasn't thinking straight. We just thought I had the mother of all black eyes and my head and cheek hurt because, well yours would too! We kept touring. Played 14 more shows. I blame the fact that I went through those shows with that amount of blinding pain on the fact that I grew up in San Pedro with all those intense, hard-living longshoreman, house painters and of course, the ultimate tour dogs, the ultimate role models for discipline on the road, The Minutemen! Well, we would have lost all the money we paid for plane tickets and car rental—-thousands of lucre that we couldn't pay back. We would also have never seen Pompeii's volcano or way up high in Tuscany or the incredible island of Sicily, and whatever else I can't remember….. but I'm sure it was great. I remember laughing a lot and going, "ouch" and then again and again and again, the same thing, ha ha ouch, all day, every day, ha ha ha ouch……… I wish you could all be with Tara Barnes in hard times. "Come on Carla, let's take more pictures of your purple face! Put this cannelloni in your nose!". I am lucky, for sure and for reals.
++++++++++++++++++++++++++++++++++++++
INFO FOR THE GIGS THIS WEEK:
first, tomorrow Saturday, november 15—(this show will be transmitted on KXLU unless everyone is too drunk):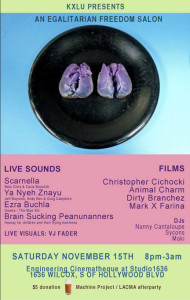 then on Monday Nov 17 (i don't know the times):