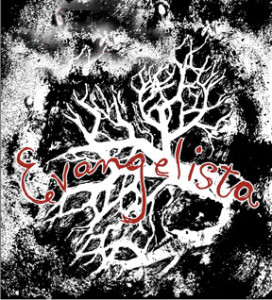 evangelista: our new album comes out today in europe. in the states march 11. we got a cool write up in the new wire mag —#1 album for march– with a picture of me and tar taken by marcus of the silver daggers. they say the title track, Hello Voyager, recorded with our 11 or so compadres is the "culmination of all the forward-tilting black energies of the album as a whole, with the evangelista players lurching, bleeding, battering and chundering. working up an intestinal, emotional mess." i will go along with that.
the band is:
tara barnes on electric basso
andrea sarrapiglio on cello
dominic cramp on keyboards, etc
adam baz on drums (n. america)
jason vendreti drums (europe)
carla on the usual
ava mendoza and shahzad ismaily will be joining us for some shows, each on guitar.
we are planning 3 1/2 months of tour starting march 12 in tucson. please check for dates as they come up at myspace.com/evangelistasounds
IF: you live in the oakland/berkeley/albany area of northern california and need a cat sitter or sub-letter for march 1 through march 10 please let me know! also if you have a nice clean place to sleep on the route of this tour for a bunch of dirty people who will all forget to bring towels and will stay up late late playing with your cat and eating your cereal and if this sounds fun and you are not a jerk please tell the guy that runs the evangelista myspace page how we can find you. if you want to flyer for the shows tell the guy to send you some art. people, come to the shows.
fyi: europe starts in the UK on april 22 and goes for 5 weeks. there we get les hotels. merci.
laters, c