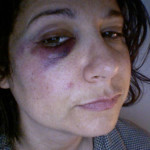 hi people. first–i am ok. now….. i was in paris last night and before our gig i was to meet with a film maker that does a bunch of cool mini films shooting visiting musicians walking around paris and singing songs–very informal. tara came with me and so did the film makers. we were doing it and having a great time when this bunch of men turned a corner towards us. one guy started talking aggressively to the guy with the camera. i started talking to the bad guy trying to get him to chill.
—–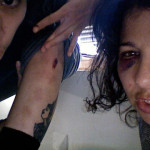 in a nutshell he started swingin on everyone—-he was on some major drugs. i don't remember everything but tara started fighting him off. i had my guitar strapped on and a mini amp clipped to my skirt and a microphone pinned to me. the guitar chord was wrapped around my neck. i don't remember everything except that i saw tara getting hit and beating on him furiously. i was scrambling–i wanted to help but i was trapped inside my guitar chords and everything. i kept pulling—–that was extremely frustrating because i could have beaten him with my guitar. tara beat him down and he ran away and we started moving up the street towards the club, i think. then i saw a flash of him as he raced past tara and ran intentionally straight into the face of the small woman trapped in a bunch of cables and stuff, slamming his fist into my face with all his force. he cracked me hard in the head and face. i fell and was confused and cried and after they got him gone everyone i was with hugged me and kept me warm. i then remember being in the club. we've since gone to Lille and are safe and sound. i don't want to go to the doctor but will go tomorrow if i have anything but the natural signs of recovery from a bad pounding to the face. the guys got hit. tara is ok. as she says, it would have hurt her more if it was a couple of 12 year old girls that jumped her. he couldn't get more than one punch in with her cuz she's too fast and strong. she also managed to jam her fingers into his eye sockets and tried to rip his ears off. i'm sure he's not feeling good today—the bad guy.
i'm fine, or rather, i'll be fine soon enough. i've been laughing on and off all day and feel mostly that i've been a part of some surreal dream.
the gig tomorrow in brussels is not canceled. none of the shows are canceled.
Nov 16 Recyclart in Brussels, belgium
Nov 18 at the Spazio Mavv, Vittorio Veneto, italy
Nov 20 at the Teatro Rasi in Ravenna, italy (w/gowns and father murphy)
Nov 21 at the Init in Roma, italy (w/gowns and father murphy)
Nov 22 at the Time Zones in Bari, italy (w/gowns and father murphy)
Nov 23 at the Galeria Toledo in Napoli, italy
Nov 25 at the Ivan Illich School in Bologna, italy
Nov 28 at the Club Garage in Milan, Italy
Nov 29 at the Feedback in Foligno, italy
Nov 30 at the Ambasciata di Marte in Firenze, italy
Dec 1 in Putignano, italy
Dec 2 in Cantina Mediterraneo in Frosinone (80 km south of Roma)
Dec 14 in Torino, Italy
Dec 15 in Bologna, italy
some club names TBA