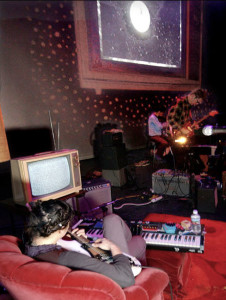 Carla Bozulich's Eyes For Ears is an interdisciplinary, large ensemble performance series based on surreal interpretation of structural dreams. Each performance has been hosted by a different festival, arts or music organization.
The works are in the form of unfolding, composed and improvised tales "told" to Carla in meditative moments inside and around the site. Since most of us, including Bozulich, can not well-understand the language of stone, wood, earth and train tracks, the results are hallucinatory in effect – the stories are that of fractured invitations to immersion.
Mutation and vast re-imagining are essential making each composition so different, but bearing the same signature. As interpreter, Bozulich listens, becomes absorbed, then intoxicated, then spits back the whispers heard in the walls and dust. The outcome is an original, continuous piece changing from moment to moment, traveled through by the audience on multiple levels. Carefully selected musicians, artists and visual designers convolute tangible space unfolding a story… hate, illumination, abstraction, mathematic transformation, the loss of identity to the sound of falling or grotesque laughter slamming another chandelier to the mirror. In other words, who knows? Voyagers is a continuing piece. No two cities, stories, or dedicated compositions are alike.
The cathedral and grounds of an ornate 15th-century monastery in Austria, the theater at the Getty Center for The Arts in Los Angeles (a theater feeling like the insides of a huge, single, white egg reminiscent of A Space Odyssey) are granted a satisfying ear and dedicated interpretation – each site has it's own "10 minutes".
At the Donau Festival in Krems, Austria, the contributors performed their original works with Bozulich's curation. The international artists invited for Voyagers will always be invited to do the same. Artists and audience are happy and it's just awesome to experience their singular visions.
These (hopefully thrice yearly) connecting events will now fall under the umbrella of, Voyagers.
To date: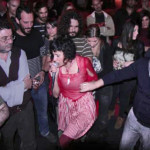 Fake Party in conjunction with SASSAS and MAK Center For Arts and Architecture, at Schindler House—Los Angeles, CA / Architect Rudolph Schindler
Elements Ascending in conjunction with Music at The Walker, at Walker Art Center— Minneapolis, Minnesota (museum theater)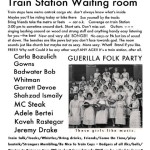 Music For A Resonant Train Station in conjunction with Guerrilla Convergence, at Glendale Train Station—Glendale, California / Architects Maurice C. Couchot, Kenneth McDonald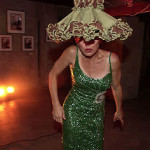 Performance For Fever Dreams in conjunction with The Getty Center For The Arts — Los Angeles, CA / Architect Richard Meier
Emma in conjunction with the Issue Project series of ongoing sound projects–Brooklyn, New York, curated by Suzanne Foil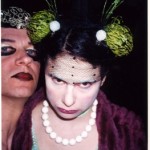 Drowned To The Light in conjunction with The CEAIT Festival, at Disney Hall's Red Cat Theater—Los Angeles, CA / Architect Frank Gehry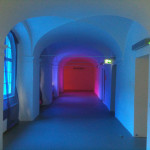 Skin Child in conjunction with the Donau International Music Festival, at Minoritenkirche Stein cathedral, monastery and grounds—Krems, Austria / 15th Century Architecture / curated by Tomas Zierhofer