we've got a short Evangelista tour coming in a few weeks in southwest europe. my favorite.
here are the dates
20/01/09 Roma @ Circolo degli Artisti (+ Savage Republic)
21/01/09 Milano @ Casa 139
22/01/09 Faenza @ Clandestino
23/01/09 Rovereto (Tn) @ Teatro alla Cartiera
24/01/09 Padova @ Stalker
25/01/09 Torino @ United
26/01/09 possibly Genova but likely day off
27/01/09 Marseilles @ l'embobineuse
28/01/09 Barcelona @ Apolo With Sir Richard Bishop
29/01/09 Madrid @ Moby Dick with Sir Richard Bishop
30/01/09 Lisboa, Portugal
31/01/09 Leiria, Portugal
01/02/09 Vigo, Spain
unbelievably happy to be playin with my homeslice ches smith and for him to be opening all shows with his solo project Congs For Brums.
besides ches on drums and percussion the band is tara barnes on bass, dominic cramp on keyboards and electronics, once again the amazing francesco guerri will spend his holiday playing cello with us. everybody sings and i like to play guitar and break things. there are no cats on this tour but if you are a cat you can sell merch.
after the tour we go directly to montreal to record our next Evangelista album, number 3 on Constellation! it'll be finished by the end of february and out after a bit next year. there are many guests we want on the album but plane tix are monstrous right now. i believe that for now our full wishlist is fucked but still, i think you'll get some nice surprises. yes.
thanks to everyone that came to the shows this year and filled our gas tank. buying our stuff after the show makes it so we can pay expenses so thank you.
here's one of my horse things i sometimes do: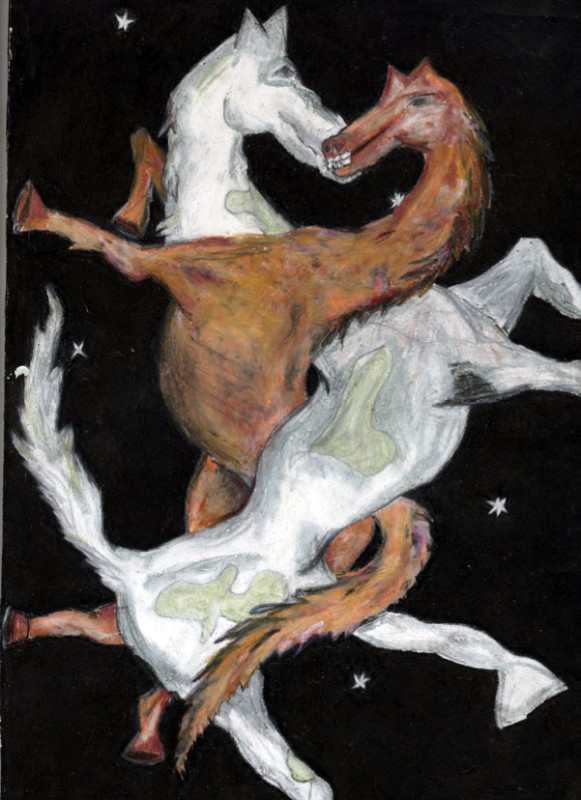 ok cranky insomnious maniacal misanthropic
love.