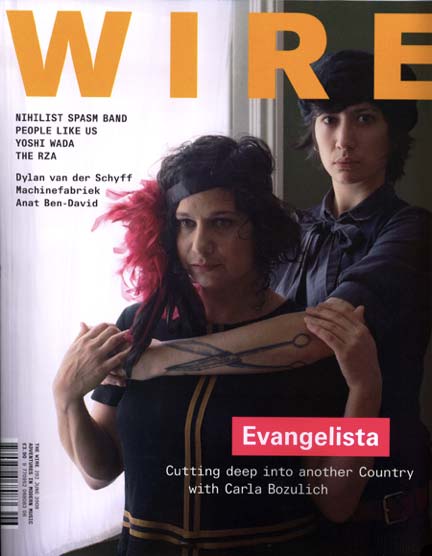 i knew the wire was the best but– fucking hell wow.
tour dates below the rants
hi there
thank you for coming to our recent shows. always an adventure. the last Evangelista show was possibly the best. a special idea just for the night. tara, shahzad, dominic, gamble. "fun and daunting", i heard someone say. shahzad and i made a little song for efrim and jessica's dog that everyone in the room sang along to. 22 people in the hot little brooklyn room (issue project) all stomped and sang as the lights went on and off and the eggs got rattled and the big drum boom boomed and voices came in and out of time and gamble running all over the place! you could hear andrea paying the cello all the way from somewhere in germany… all in surround sound! please support brooklyn's issue project. it's really something. we will have cds of this night—limited editions at our coming shows with xiu xiu……
tara has aptly named this xiu xiu tour the MONSTERS OF MERCH TOUR. we will simply not break even if we don't kick ass on merch. we ended up with way too much, especially shirts and stuff because of canceled dates and optimism. we will have some rare stuff. please buy. and please come to the shows if you can. we won't be able to do these north american tours anymore unless a miracle happens and either the promoters start paying us $20 for every person that pays $7 at the door or gas drops to pre-1985 prices. in short, we need more bodies at the shows or grants or something to be able to play for you on this continent in the future. those of you who have come to the shows know what i'm talking about—–100% throwing down, no matter how many people in the room. it's our pleasure.
now, many of you have given us hotel rooms or nice places to sleep and cake and things in the past to make tour in the usa easier. we don't always say yeah but this trip is gonna be all about sayin', YEAH. you feel free to help us out! really. don't be shy about it. i got the laptop i'm typing to you on w/money people sent me to keep me on the road. believe me, without a laptop the whole thing would halt. writing, recording, making tours, making false identities on wikipedia….
taking this concept of "help us entertain you", check this out. we really do still want to play in the states sometimes. please look below the tour dates to take in our latest harebrain scheme.
let's see. i was asked by a newspaper if i've done any recordings or tours this year. well, yes! aside from Hello Voyager… i was on an album that came out a couple of months ago called Simone Masserone–Dandelions On Fire (featuring CB). the label is Long Song Records out of milan. it's good stuff and definitely not my usual direction. kind of cool to drop in on someone else's scene and find a niche.
i did a track with Bul Bul for their new album that came out recently which was super fun to record. we followed it up with a gig in vienna where they asked me to decide what we were gonna do at the show. i wrote a really fun set of detailed recipes for chaos turning into structure into car wrecking noise into acapella german drinking sing alongs. it was super fun and they are the best guys (and they're not afraid of doing anything embarrassing!!). http://www.flickr.com/photos/davnull/2541010293/in/photostream/
i did a track with mickey finn, led by another italian monster of sound, zeno de rossi along with cuong vu. the song's called We Are What We Teach—-speaking against war and rascism
NOW our beloved Dead Science are on Constellation. tara got to hear their new album and she warned me that i won't believe how good it is. yay! they are so gay!! now we can really fight. cuz now we are brothers! brothers in gayness! they are the BEST. i just sang on one of their songs for something they're doing with a lot of guests. 12 tracks of carla in 3.5 minutes, wearing hot pants during the entire recording session— that's where it's at.
this interview was published and i like it: http://www.tinymixtapes.com/Carla-Bozulich-Evangelista
come early to the xiu xiu shows so you won't miss the amazing rob fisk in his new project Common Eider, King Eider.
listen to Dead Western listen to Pod Blotz listen to Spires That In The Sunset Rise. these were my fav new things we played with on the recent tours. boy was i floored by Dead Western.
coming shows:
august 3 GOLDMUND FESTIVAL, Berlin (w/ francesco guerri + guests?)
++++++++++++++++++++++++++++++++++++
ALL BELOW DATES EXCEPT SEPT 11 (Wire festival W/ KEIJI HAINO) ARE OPENING FOR XIU XIU
aug 15 @ casbah, san diego, california
aug 16 @ solar culture, tucson, arizona
aug 19@ tequila jungle, lubbock, texas
aug 20 @ mohawk, austin, texas
aug 21 @ Orange Show Center for Visionary Art, houston, texas
aug 22@ bottle tree cafe, birmingham
aug 23 @ drunken unicorn, atlanta, georgia
aug 24 @ milestone, charlotte, north carolina
aug 25 @ sonar, baltimore, maryland
aug 26 @ living room providence, rhode island
aug 27 @ paradise boston, massachusetts
aug 28 @ bowery ballroom, new york cty
sept 11 @ empty bottle, chicago (WIRE FESTIVAL)
sept 13 @ bottom of the hill, san francisco…
we're working on some dates for southern europe for late november, early december.
look at this pic of nels and jessica moss during a geraldine fibbers show: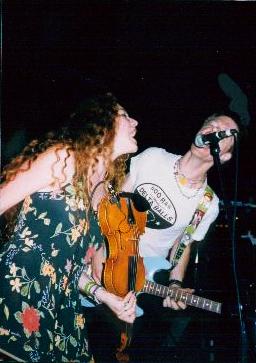 jam on this you guys as a thing that might be a
really
good idea:
THIS IS SUCH A GOOD IDEA
We have this experience experiment in the works where we will hire our sorcery out to our fans, friends, and colleagues.
and here it is:
For the cost of us traveling plus $100 for each band member, Carla Bozulich's Evangelista will play for at least an hour at your birthday party, graduation, funeral, going away party, existential malaise
exorcism, body aches, muscle soreness, clean/sober birthday or anniversary celebration, decapitation, wedding, art opening and closings, dance party, magazine, store or yacht launchings, cult-removal, viking funerals, removal of orthodontic contraptions and/or root canal, chili cook-off, catcentrics, bat mitzvah, pet lizard funeral, et cetera.
included in this fee we will also:
1. write a song especially for you and your friends. Really. you give us a topic and one to five keywords.
2. arrange and perform any one cover song of your choosing, or any request from back catalog, that is under six minutes in length. totally fine to request songs we have never heard, just send us the mp3. please be prepared for any song to sound completely different from what you are used to.
3. give you one mix-tape made just for you from EACH BAND MEMBER. yes! for you to rock on your cd cassette deck or laser dot all night long. Hours of grooves and drones and things you can smell with your ears.
4. eat a bunch of your snacks
5. speak in a language that only we understand— frequently, accidentally and without warning, especially while we set up, eat and break down our equipaje.
6. if, for instance, you and all your friends (you're gonna need friends to get all this cash together) just like screeching gargantuan feedback and vacuum cleaner sounds ONLY or if maybe you're getting married to a shy muppet or getting over ear canal reversal surgery and you'd like us to do quieter songs with not much cursing on your great aunts' 102nd birthday, we will take it as a fun challenge. if you're into all improvised/specially devised shows, it is my forte and it will be a pleasure. whatevr. we're easy
7. if you want to do this but you want to do it at a club in your town, that's totally possible. we need to have all the same things end up in all the same places, but we can arrange things with a venue to make this a special nite or day.
requisites:
1. scheduling is a bitch.
2. we need two or 3 hotel rooms, or a righteous house with beds and couches to sleep on and clean towels. no incense, hard drugs, cigs or potpourri, or cat piss, please.
3. you need to supply a PA with reverb! we will show up in time to set it up with you and make the sound nice before people arrive.
4. we need cool foods
5. if things turn ugly we're outta there ie: hard drugs or listening to U2 or Sting.
note: even if you are not located along a good route for us, please email us anyway. if you rock the plane tickets and the amps and stuff, we will be there.
NOTE: discount if you have cats and can prove it. double discount if your pet is a stray or rescue!!!!!! double again discount if your pet comes with a great pet rescue story.