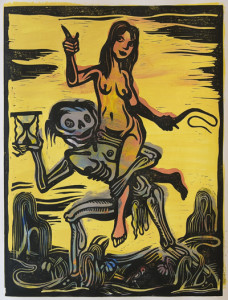 hi, friends. we have one more evangelista gig in nyc—tonight (tues) at the stone on 2nd and
c. 10 pm. please come.
the show in chicago is CANCELED due to scheduling mix up on the part of the empty
bottle. sorry for that, really, really wish that would have worked out playing with
keiji haino!
we have one show left with our beloved xiu xiu. san francisco on sept 13. surprise
guests.
the bowery ballroom show in nyc was one of the best ever. we were joined by spencer
yeh (violin) and okkyung lee (cello). there was times in the show that sounded like
the mouth of hell gave birth to a choir of impossibly naive kitten sounds with bloody
claws and sooo soft.
the incredible lisa gamble is playing her last show with us for a while tomorrow. please check
her out in all incarnations. she's a real explorer and her sense of adventure
is wild and magikal.
ezra buchla ended up playing even more shows than we planned. he gets this music
and the music gets him. very intense. we were the stronger for it.
our plans for europe in nov-december are still being cooked up. early next year,
too, we hope.
if you're in nyc you've got to check out jesse's art opening. you might recognize his odd stylings from the fibbers record covers…. he's amazing.
go here:
http://www.christopherhenrygallery.com/
love to sydney and anthony.